Sustainable Fashion Brands to Follow 2022
The Best Sustainable Fashion Brands
Looking for sustainable fashion brands to follow? You're in luck! We've rounded up some of the best eco-friendly clothing companies out there. These brands are committed to creating sustainable products that don't damage the environment, and they're doing a great job of it.
The impact the fashion industry has on the environment is shocking. Fashion produces 2%-8% of global
carbon emissions. If nothing changes, it will use up a quarter of the world's carbon budget by 2050. In
today's fast fashion world, it's all too easy to purchase an inexpensive clothing item at a big box store
right down the street.
However, this cheap clothing item is not as durable, will likely go out of style quickly, and end up in a landfill. The average shopper buys 68 garments a year, while the average garment is worn just 7 times.
The average consumer also disposes of 82 pounds of textile waste per year. Not only does this greatly affect the environment, but it raises the question of whether these inexpensive clothing items were ethically and sustainably sourced, from the people who make the items to the materials they were made from.
Why is sustainable clothing important and what does "sustainable fashion" actually mean? Sustainable
clothing is made from eco-friendly fabrics that are more durable which means they will last for years. By
purchasing sustainable clothing, you won't have to continue buying new pieces more frequently, which
helps reduce the amount of clothes that end up in the landfill, therefore reducing your carbon footprint.
Sustainable fashion is a term that refers to clothing that has been made in a way that is mindful of the
many environmental issues the fashion industry affects. Brands that focus on sustainable fashion try to
reduce waste as much as possible and use fabrics that are ethically and sustainably sourced.
So, what can we do to help reduce our fashion footprint?
Less is more – buy fewer clothes and make sure you purchase higher-quality items.
Buy from sustainable brands – we've rounded up some of our favorites below.
Donate, repair, sell, or recycle your clothing items.
Buy second-hand, swap with family or friends, or rent your clothing items.
The best way to be more sustainable is by choosing quality pieces that will last longer over inexpensive
ones that will go out of style.
In this post, we will review our favorite sustainable fashion brands. Feel free to use the links below to
navigate the post.
Christy Dawn
Sezane
Everlane
Jenni Kayne
Eileen Fisher
Reformation
Quince
Cuyana
Mate the Label
Athleta
Farm Rio
Boden
Able
Happy Earth
J.Crew Reimagined
Tentree
Girlfriend Collective
Outerknown
Patagonia
Petite Studio
M.M. Lafleur
Diarrablu
Summersalt
Faithful the Brand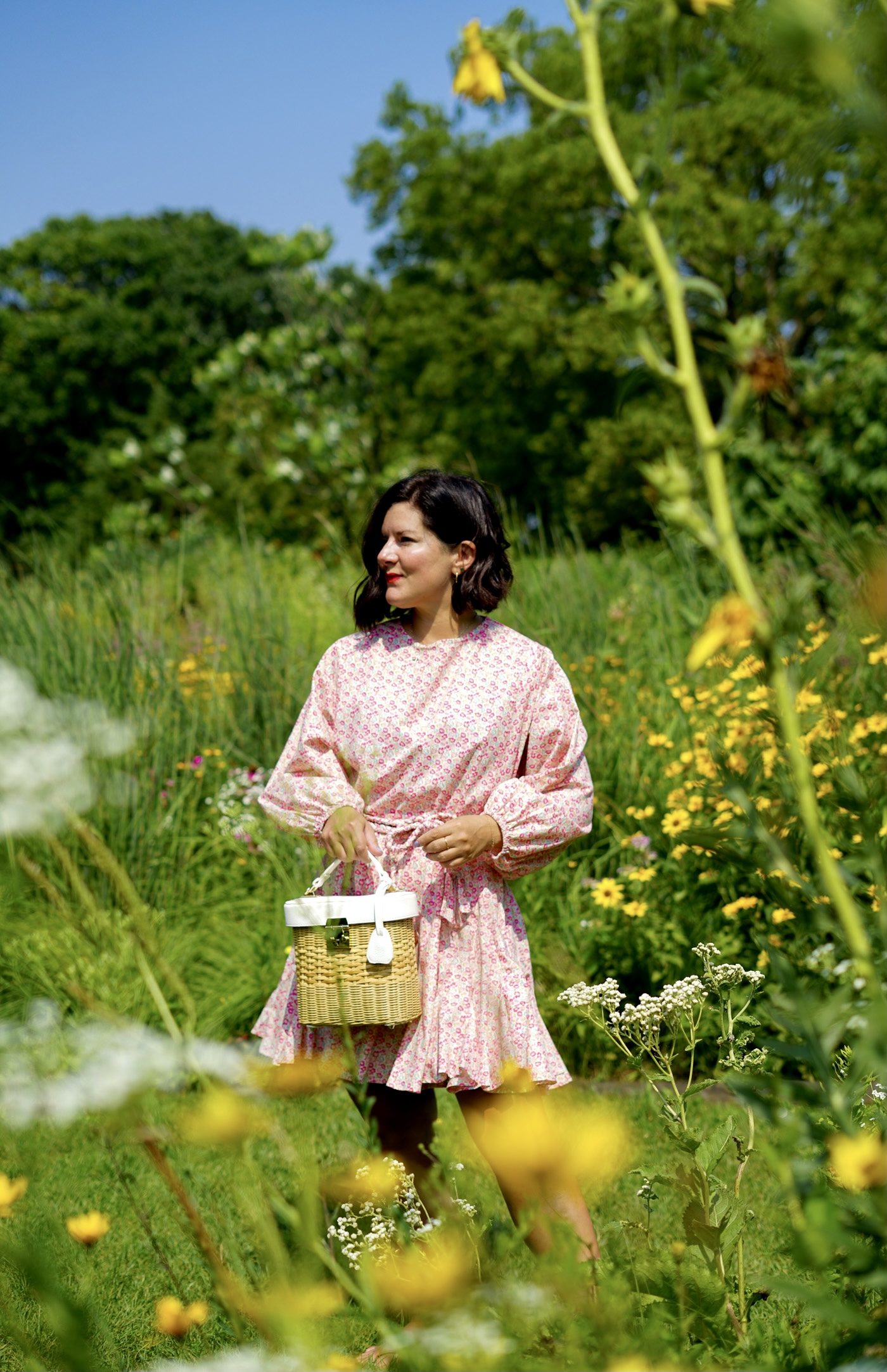 Christy Dawn
Christy Dawn is one of our favorite sustainable clothing brands. Their pieces are beautiful, comfortable, and timeless. Their products are made to last using techniques that take more time but allow for a higher quality item.
They create mutually beneficial relationships with all of the people and ecosystems they work with. They also make sure to use deadstock fabric (excess fabric left over from other brands) and their organic cotton collection is colored with natural and organic dyes.
Along with featuring an extensive women's collection, Christy Dawn also features a kid's line, maternity-friendly clothing, and even a mommy & me collection. They have inclusive sizing for petite and extended sizes. In the spirit of reducing waste, Christy Dawn also offers pieces that have slight imperfections for 20 – 30% off the original price.
What's even more unique is their "grow your own dress" program. Your initial investment will cover the cost of farming the cotton which will then produce your very own dress.
Everlane
Taking an untraditional approach by offering "radical transparency", Everlane details the cost breakdown for each item so the customer knows exactly what they are paying for. Their goal is for consumers to wear their products for years. That's why they make to source the best high-quality materials to ensure the longevity of their pieces. Using the best factories around the world, Everlane employs a strict audit system evaluating fair wages, a safe work environment, and reasonable work hours.
Everlane offers both women's and men's lines. We love their cashmere crew sweaters, organic cotton tees, and stylish trench coats.
Jenni Kayne
Jenni Kayne focuses on creating the best items from high-quality, ethically sourced materials. Featuring materials like recycled and undyed cashmere and sustainable alpaca, they create staples that are durable, luxurious, and low-impact. Jenni Kayne builds and maintains relationships with its factories, produces locally when possible, and offers sustainable packaging.
Jenni Kayne is known for neutrals and classic wardrobe pieces. They offer an extensive women's line as well as home décor. Some of our favorite items include the cable cardigan featuring super soft cotton that can be worn across all seasons.
Eileen Fisher
Eileen Fisher is a leader in the fashion industry for offering sustainable and ethical garments. A certified B corporation, they offer fair trade collections and focus on second-hand and circular initiatives. They offer inclusive sizing, with every item having sizes XXS-3X.
Their "Renew" program allows consumers to return their gently worn Eileen Fisher garments for a reward to be used on future purchases. The returned items are then inspected, cleaned, and resold at a discounted price. At Eileen Fisher, they stress the importance of building a simple, yet durable wardrobe.
Reformation
With the slogan, "Being naked is the #1 most sustainable option. We're # 2." Reformation is dedicated to producing sustainable and ethically sourced clothing items.
To that end, they even built their own factory in Los Angeles, where they focus on creating a safe, healthy, and fair working environment for all. Their clothes are made from low-impact materials, deadstock fabrics, and repurposed vintage clothing items.
Reformation offers new items each week produced in small batches to reduce over-production, minimize waste, and ensure exclusivity in their designs. Some of their newest initiatives include 100% recyclable sneakers, developing mushroom leather, and working on powering their supply chain using renewable energy.
We absolutely love their dresses and own several of their linen pieces. Featuring petite as well as extended sizes, there is something for every body type.
Quince
Featuring a women's, men's and home line, Quince is focused on providing high-quality, luxury items at an affordable price. Their approach focuses on cutting out the middleman using their factory-direct model, allowing them to offer high-quality products for much lower prices than competitors.
Quince ensures its factories meet high standards for workplace safety and wage fairness. Making sure to offer the best organic materials, while packaging their products in an eco-friendly way, their commitment to sustainability is at the heart of their business.
One of the pieces we love from Quince is their 100% Washable Silk Slip Dress. Offered for less than $80, it's a wardrobe staple that can be dressed up or down and worn all year round. We also love their Cashmere Classic Sweater for $50 which is super soft and made from 100% Grade A cashmere.
Cuyana
Cuyana is a women-led company offering fewer collections that focus on classic pieces, luxury, and sustainability. Focusing on producing small batches, they sell ninety percent of the items they produce which is considered a high industry standard.
The majority of their products are made from sustainable materials. In order to reduce waste, Cuyana established a Lean Closet program which is dedicated to giving their products a second life through resale of gently used Cuyana items.
We are obsessed with their customizable System Tote which offers two sizes to fit your laptop and inserts to make your bag as functional and organized as possible. We also love their Top Handle Crossbody Bag which features an adjustable strap to be worn as a shoulder or crossbody bag. Cuyana also offers swim, shoes, clothing, small leather goods, and accessories.
MATE the Label
Mate the Label is a sustainable clothing brand made in the US with non-toxic, natural, and organic materials. Their mission: to make essential wardrobe pieces accessible to all that are clean from "seed to skin".
Programs to recycle your old garments, plastic-free initiatives, and implementing strict ethical workplace standards are just some of MATE's sustainability efforts. They also prohibit the use of restricted substances to ensure that carcinogens, endocrine disruptors, and other toxins are kept out of their products. Offering sizes XS- 3X, MATE has men's, women's, kids', and maternity and postpartum friendly items.
Athleta
Athleta is a certified B-Corporation focused on women's empowerment. Repurposing plastic bottles into their recycled fabrics, using organic cotton, and investing in renewable energy, are just some of their sustainable practices.
They also make sure to use fair trade certified factories for their production. Focused on women's apparel, their athletic wear is some of the best and can be worn across multiple activities – from yoga to tennis, to running errands or just lounging at home. Athleta also offers inclusive sizing from petite, tall, and extended sizes.
Farm Rio
Featuring bright colors to "enlighten the soul", Farm Rio is a Brazilian-based company with a focus on giving back. The brand is 100% carbon neutral and for every purchase made, they donate the dollar amount equivalent to one tree planted.
Using responsible materials such as 100% certified organic cotton, viscose, and recycled polyester allows for lower emissions and water impact. Farm Rio's prints are bold and vibrant and representative of the company's home.
Offering an extensive women's line, each piece is bright and colorful. We absolutely love the dresses from Farm Rio. Their Neon Macaws Maxi Dress is one of our favorites with its bold prints and tiered ruffle skirt.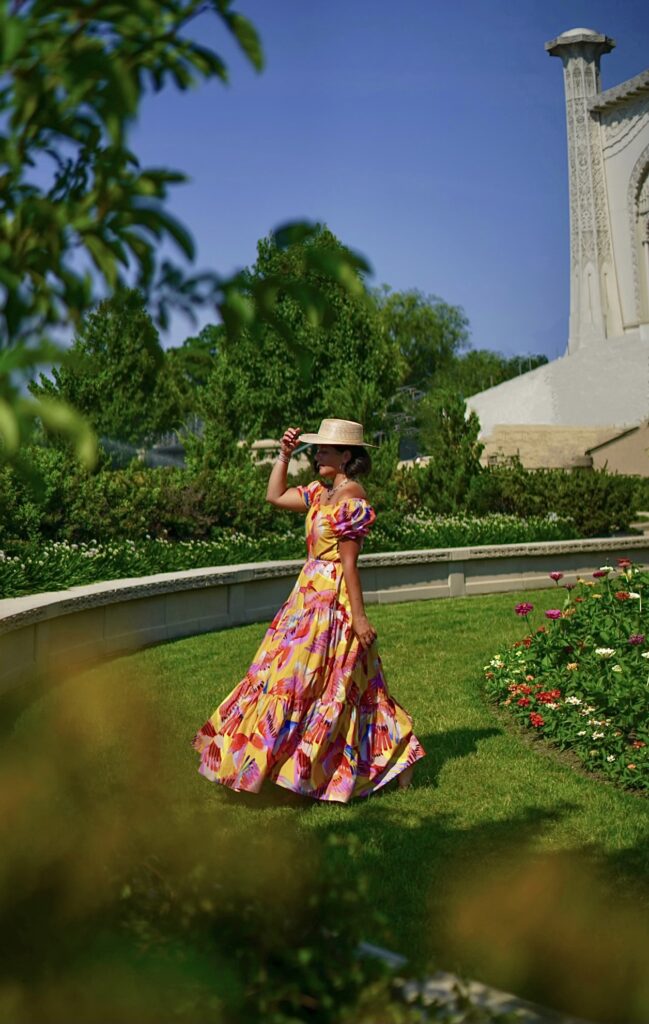 Shop the
Look
Boden
Like many fashion brands, Boden has big goals when it comes to sustainability. By offering sustainable materials such as recycled polyester, 100% certified organic cotton, viscose, and sustainable cashmere wool, their ultimate goal is that all of their clothing will be made from sustainable materials by 2025.
Boden also employs a sourcing commitment with their factories, offers a responsible recycling program to repurpose gently worn Boden items for store credit, and provides education on how to care for your fabrics to ensure their longevity in your closet. Giving back is also important to Boden as they have donated over a million dollars to charitable causes.
Featuring men's, women's, kids, and baby collections, Boden has something for everyone. We especially love their dresses which are comfortable, unique and versatile.
ABLE
ABLE is a company focusing on ethical and sustainable practices and women empowerment. Their high-quality items aren't just investment pieces for your closet, they are an investment in women.
Offering a lifetime guarantee, their high-quality products are durable and made from the most eco-friendly materials to keep them in your closet and out of landfills.
Promoting body inclusivity, ABLE has the unique offering of a size swap for when your body or life changes. Currently, a majority of their apparel is available in sizes up to 3X with the ultimate goal of all items being offered in a size range up to 5X.
Happy Earth
Happy Earth is a sustainable and ethical fashion brand focused on making the planet a happy and healthy place. A certified B corporation, they are working to fight climate change, plant trees, reforestation, and reduce plastic waste.
They are also carbon neutral and make sure to only work with fair trade facilities. Sourcing the best materials is extremely important to Happy Earth, including organic cotton, reclaimed fibers, and sustainable cork.
There are many things we love about Happy Earth but one of them is definitely their Organic Cotton T-Shirt Dresses. Perfect for running errands, brunch, or lounging around the house, the t-shirt dress is so versatile. Their Organic Sweatshirts are another of our favorites. They display beautiful natural designs, are super soft, and extremely comfortable.
Vetta
Vetta is a sustainable brand built on the premise of creating a capsule wardrobe where every piece is versatile, can be mixed and matched, and worn several different ways.
Primarily using Tencel (made from sustainably harvested wood pulp), organic cotton, and deadstock fabric, Vetta is committed to using sustainable fabrics. They are also dedicated to only working with responsible factories that have safe work environments, ethical labor practices, and promote fair wages.
Their build your own capsule collection allows you to choose five pieces to create your own mini wardrobe. One of their unique wardrobe pieces is their Reversible Satin Midi Skirt.
Available in three different prints, this skirt can be worn all year round and with so many different style options. We love it so much we're adding it to our fall capsule wardrobe.
J.Crew Reimagined
J.Crew has developed a separate line focusing on sustainability and eco-friendly practices called J.Crew Reimagined. Partnering with factories that are environmentally responsible and fair trade certified, and using sustainable materials such as organic cotton, recycled polyester, and recycled nylon, J.Crew Reimagined is focused on lessening their environmental impacts.
Featuring the same J.Crew styles we know and love but more eco-friendly, J.Crew Reimagined has collections for men, women, and kids.
Sizes range from classic, tall, petite, and extended sizes to 3X. We absolutely love their blazers which can be worn to the office, a night out, or dressed down with a pair of great denim. The Juliette collarless sweater-blazer is also another closet staple and one that we come back to year after year.
Tentree
Tentree is a certified B corporation committed to sustainability and protecting the planet. They are carbon neutral and focus on ethical manufacturing, sustainably sourced materials such as organic cotton to recycled polyester, and responsible packaging.
With the ability to purchase trees to offset your carbon footprint, Tentree offers subscription plans, one-time purchases, and gift options. What's more, their program is called The Impact Wallet which allows you to track how many trees you have helped to plant and where they are located.
Offering women's, men's, kids, and accessories, Tentree has something for everyone. Their everyday essentials are classic pieces that can be mixed and matched and worn for years to come.
Girlfriend Collective
With the slogan, "slow fashion for whatever your speed", Girlfriend Collective believes in ethical manufacturing and recycled materials. Offering 100% recycled packaging and clothes that are made from recycled materials like plastic water bottles, rescued fishing nets, deadstock fabrics, and other waste products, Girlfriend Collective is committed to sustainability.
They are also focused on promoting health and wellness and making sure body inclusivity is fully represented in the brand. Girlfriend Collective also offers a 20% discount for all verified hospital employees, military, first responders, medical providers, nurses, students, and teachers. They also offer a recycling program for gently worn Girlfriend items for store credit.
Outerknown
Dedicated to protecting the environment and supporting fair labor, Outerknown has big goals when it comes to sustainability. Focusing on circular solutions such as resale, repair, and recycling programs, they project to make 100% of their products circular by 2030. Research and development are also at the forefront of their operation, knowing innovation is the key to a more sustainable future.
We love their Blanket Shirt which feels exactly like it sounds. Made from super soft heavyweight organic cotton twill with buttons made from nuts, it's a versatile and essential layering piece that can be worn as a shirt or even as a lightweight jacket.
Patagonia
Patagonia is known for offering a variety of outdoor and sporting gear across many different sports types. They stand behind their high-quality items, offering a lifetime guarantee on all of their products. Like many brands today, they have made big strides when it comes to being eco-friendly and environmentally conscious.
By using sustainable materials, offering a recycling program to turn in gently worn gear, and working with fair trade factories to ensure safe work environments and livable wages, Patagonia continues to work on improving its operation to ensure its sustainability.
Petite Studio
A fashion brand focused solely on fitting the petite frame, Petite Studio is ranked as one of the top sustainable indie brands for petite women.
Not falling into the fast fashion hype, Petite Studio focuses on making unique, high-quality pieces with luxury materials that will last. Using an exclusive factory based in the founder's hometown in China, they ensure a safe workplace, fair wages, and reasonable work hours. Each piece takes about 20 hours to complete, making sure the products are well made and fit appropriately.

Their dresses are everything to write home about and being a petite size myself, I understand firsthand that it can be especially hard to find a dress that hits exactly the right point without being too long.
M.M. Lafleur
A female-founded company, M.M. Lafleur focuses on women empowerment and making it easier for women to get dressed and feel more confident. Creating a high-quality easy-to-style wardrobe that's machine-washable, they aim to create functional, comfortable, and classic pieces.
By offering an upcycling program for gently used items, using recycled materials, and having personal relationships with the mills and factories, M.M. Lafleur strives to continue to make sustainability at the heart of their business.
The brand offers petite and tall sizes. We love their Tatum Top, a classic silk button-down featuring 100% machine washable silk. Dressed up or down, this piece will easily take you from day to night. Don't know what to buy? Their site offers styled capsule wardrobes put together by some of the best in the fashion industry.
Diarrablu
Diarrablu is a contemporary lifestyle brand that focuses on sustainability and showcasing the African continent's rich colors and unique patterns. The brand creates pieces that are durable, convertible, versatile, and fit across various sizes. Making sure to promote size inclusivity, they offer sizes from XS – 3XL.
Featuring colorful, unique prints, their dresses are flowy, and feminine, and are sure to be a show stopper. Another unique garment Diarrablu offers is a Kimono. This comfortable and versatile item comes with a detachable sash that can be worn open as a duster or closed as a dress.
SHOP DIARRABLU
Summersalt
Summersalt is a fashion brand that is focused on creating travel essentials that can take you from a day of travel to your final destination seamlessly. Working towards total sustainability, many of Summersalt's garments are made from recycled materials.
The brand has personal relationships with its factories, ensuring things are done ethically and sustainably. Using more than 1 million body measurements on nearly 10,000 women, Summersalt has created the perfect fit while remaining committed to protecting the planet. This is just one of the many reasons they are our go-to when it comes to sustainable swimwear.
SHOP SUMMERSALT
Faithfull the Brand
Founded in Indonesia, Faithfull the Brand focuses on quality and authenticity. As a certified B corporation, they work closely with Bali's best manufacturers to ensure their unique pieces are ethically and sustainably made.
Their brand represents a sense of summer and a spirit of travel, with vintage pieces that are simple and chic. Faithfull works with over 1000 artisans across Bali, further ensuring quality control and fabric longevity, supporting family-owned businesses, transparent supply chains, responsible fashion, handmade artistry, and fair pricing.
We especially love their dresses which are feminine, flowy, comfortable, and perfect for your next vacation.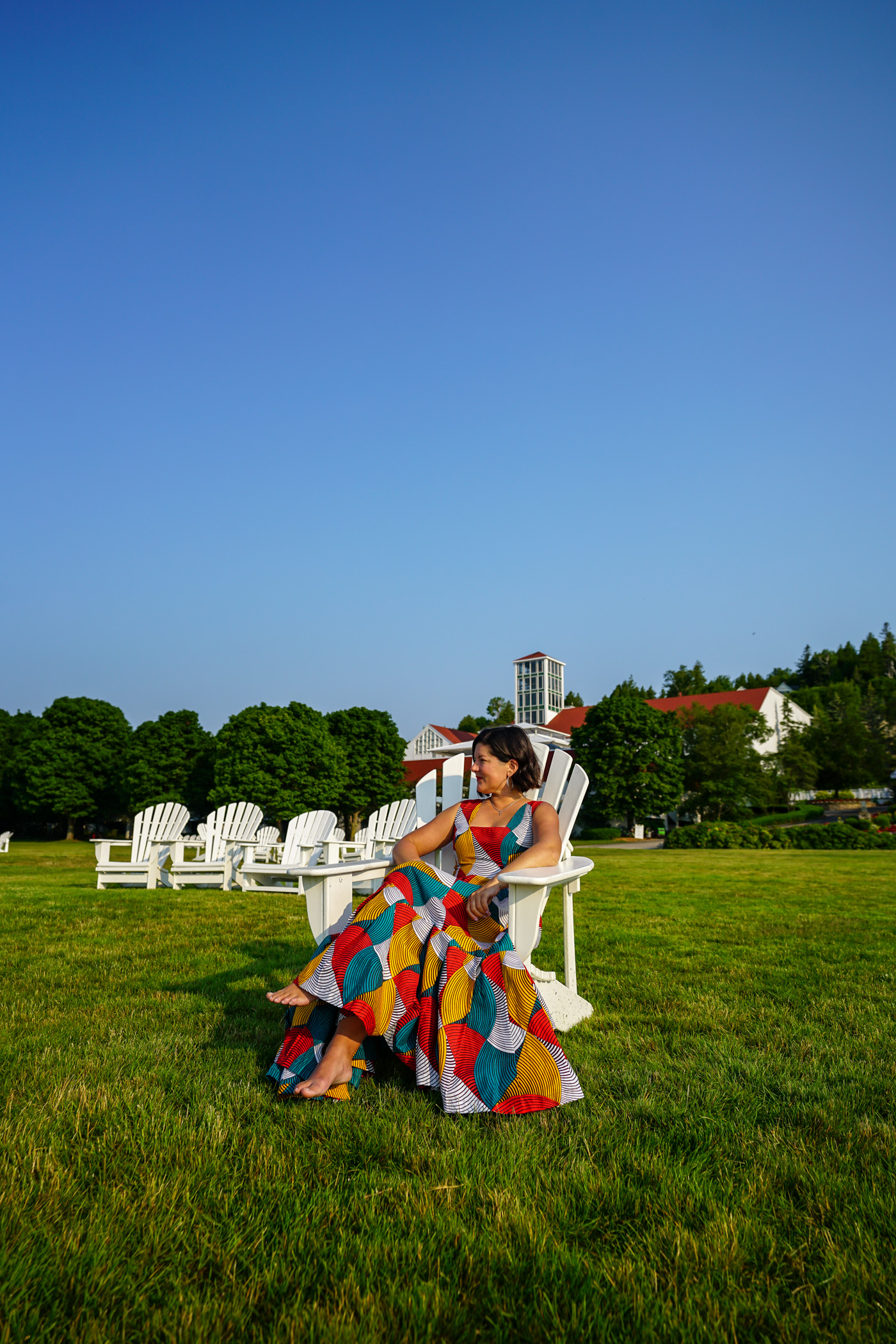 We hope that this list is helpful and allows you to choose more sustainable and ethically sourced clothing items.
Knowledge is power and we are constantly learning how we can make better choices while also helping to protect the planet. Let us know in the comments which sustainable fashion brand is your favorite!
LOOKING FOR OTHER SUSTAINABLE FASHION POSTS? HERE ARE A FEW RECOMMENDATIONS: